A Note from our Founder & Executive Director,
Susan Frank
Our God is a Mighty God
As I reflect over the first ten years of Hearts for Homes, I am continually in awe of God's goodness, favor and provisions.  When I faithfully left my position at Liberty Christian School to follow the vision that God had given me some 20 years earlier, I had no idea what all He had in store!
     Zechariah 4:10 (NLT) is definitely a picture of the early days of H4H, "Do not despise these small beginnings, for the Lord rejoices to see the work begin…"  The work began, volunteers came, and generous supporters got on board.  We started so small, working out of our home, with $1,000 in seed money and one volunteer (me)!  Things didn't stay that way for very long.  Each and every year (even in 2008 when our economy took a nose dive), we have continued to grow in every way.  I truly believe that God is rejoicing that the work began because we have been able to improve the living conditions of so many low-income seniors in Denton County.
     2016 saw some amazing blessings from the Lord.  Thanks to our wonderful grant writer, Stacey Campbell, we have received numerous grants that have allowed us to grow in ways only dreamed about previously.  In addition, our very generous supporters have blessed us with unbelievable donations, including a $45,000 anonymous gift this December!   We gained many new donors during the year who have sown very generously into this ministry.  Just a few weeks ago, I was frustrated and exhausted just thinking about the things we are wanting to do in 2017, knowing that it would require extensive new fundraising to generate the funds.  However, because of God's faithfulness and the generosity of our supporters, we are entering 2017 with more financial resources than every before in the history of H4H AND a recharged and energized director!!!
     The picture here is from 2016 with my daughter Lauren, granddaughter Abi, and senior homeowner Josie Dollarhide, was taken on one of my favorite days of the year….Christmas baskets delivery!  I cannot tell you what a joy it is to see the smiles on the faces and receive the heartfelt hugs from our seniors as our volunteers deliver two laundry baskets overflowing with nonperishable food items, durable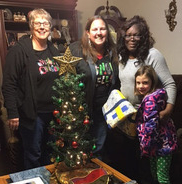 goods, a spiral sliced ham, a handmade quilt, a Christmas card made by Ginnings Elementary students, and a $25 Target gift card.  These baskets are truly a lifeline for our seniors to help them stretch the few dollars they receive in social security every month.  One of the Guyer baseball players who was helping decorate the seniors homes tweeted, "The smiles on their faces put a smile on mine!"  In my opinion, this is what Christmas is all about!
     2016 saw the addition of many new volunteers to the work of H4H, including quite a few with construction skills.  Including the seniors who received Christmas baskets this year, we provided services to 66 low-income senior homeowners, accumulating over 5,000 volunteer hours.  We held 178 work days; on many of those days multiple homes were worked on, bringing the cumulative total of projects to 358!  I never dreamed when I stepped out in faith in 2006 that we would hold over 1,412 work days and amass nearly 60,000 volunteer hours in the first ten years.  That relates to a value over $1,400,000 in volunteer hours!!  Wow…that's a huge number, but then we have a HUGE God!
     I'm so thankful for each and every one of you, and so proud that you have chosen to come alongside us in this journey called Hearts for Homes.  You have made me a very happy person!  May God richly bless you in the coming months.
Susan Frank
Executive Director