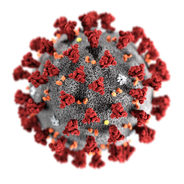 In light of the current public health threat due to COVID-19, Hearts for Homes will be doing the following to ensure the safety and well-being of our vulnerable senior clients until this crisis has passed:
Temporarily suspending all non-essential home repairs for our senior clients except for emergency repairs.
Office is closed for any in-person activity through the stay-home orders to protect our staff.
Offering team/group volunteering only for outside needs. No groups will be allowed to assist with interior repairs to limit exposure to our seniors until this crisis has passed.
Requesting volunteers willing to help run errands for our clients who may need essential groceries and/or prescription medicines to help them remain home and avoid crowds. These items would be dropped off at the senior's doorstep.
If interested in lending a hand with our seniors during this time of crisis, please contact our offices at 940/891-0947 or email Susan@HeartsForHomes.org. We are gathering a list of volunteers willing to run errands for our clients if needed during this health crisis.
For more information on this virus and how to stay safe, please visit the CDC website:  https://www.cdc.gov/…/specific…/high-risk-complications.html.